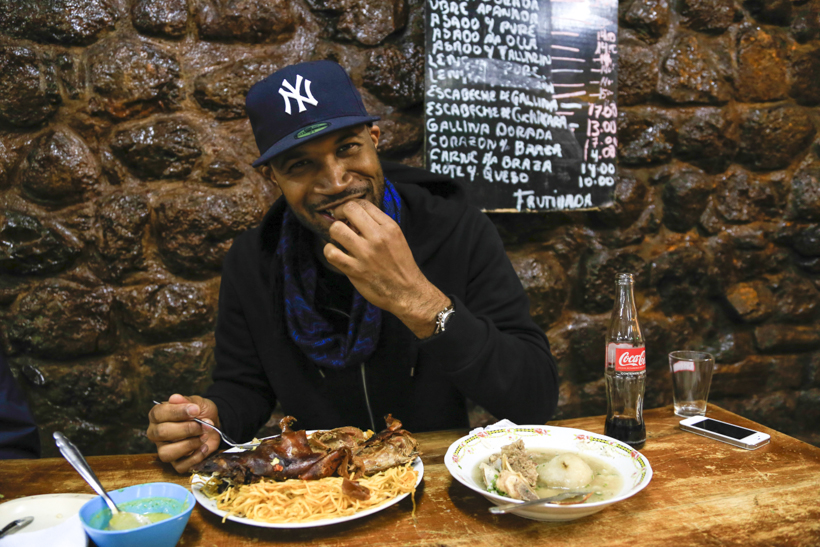 This sentence is far from the most poetic that I've written during my time as a travel scribe, but there's no eloquent way to describe the taste of guinea pig. In fact, only two words pop into mind when I think about the Peruvian dish: FUCKING DISGUSTING. Now, I know that's no way for a former Anthropology student to speak of another culture's traditional cuisine, but HAVE YOU ever chomped down on guinea pig ass? I think not. And yeah, I may be smiling in the photograph above, but that's because I know that no more bites follow that one. That was my last oral inhalation of rodent before I politely nodded to the cook and downed a pint in hopes of sterilizing whatever guinea feces might be temporarily calling my stomach home.
When I travel abroad, I love being adventurous and trying indigenous foods. I mean, I'm no fucking Andrew Zimmern … but if you put it in front of me, and it's not moving, I'll try it. And while backpacking around the Andes this summer, I dined on plenty of alpaca, llama and anticucho (beef heart) … then one bold evening in Cusco, guinea pig. The little fury creatures that some of you may have had as pets during your childhoods, have been domesticated in Peru and used for their meat since the 1960s. I mean, from a farming standpoint, it makes sense. They require far less room than cattle or other livestock, they reproduce rapidly, and they can be raised just about anywhere. I mean, come on … you ain't breeding swine in your 230 sq. ft. Lower Eastside apartment, but you can get probably fit a few rodents in there; hell, chances are you already do.
And it's not like Peruvians eat these things on occasion, they consume 65 million of the fluffy critters a year … and as far as I'm concerned, they can keep the little fuckers. They may be high in protein and low in fat and cholesterol, but clog my arteries with bacon, because this is one dish I never need to try again.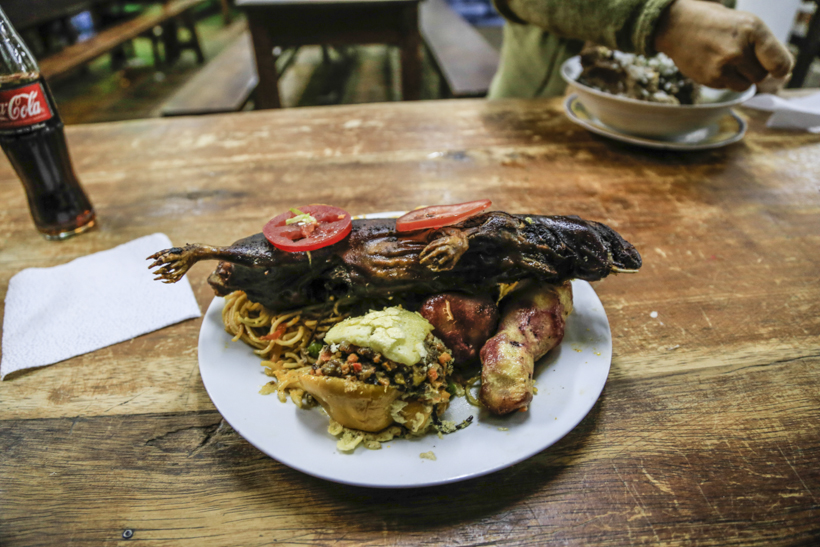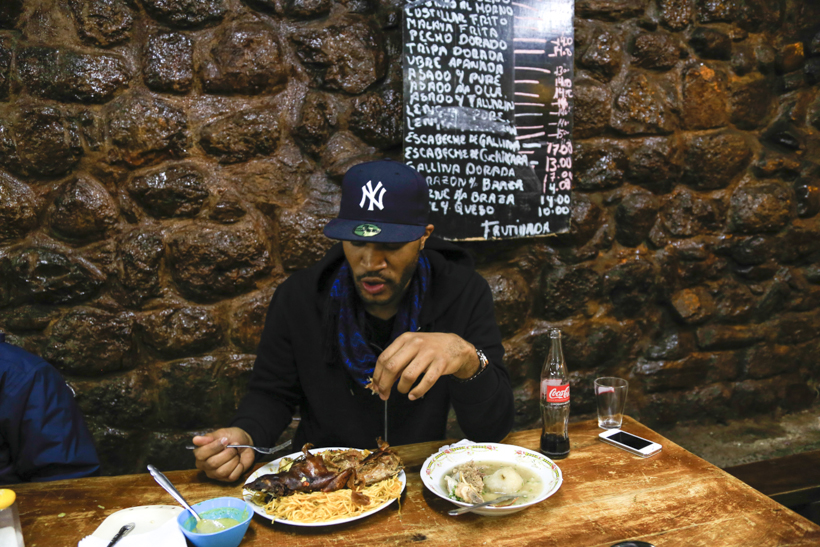 I opted for cuy for the first and last time at La Chomba, a food joint frequented by Cusco's locals. You can order the meat a number of ways, but I went traditional and opted for Cuy al Horno, which just means slow roasted. The dish arrived accompanied with spaghetti, some weird hamburger, egg and vegetable medley plus a few potatoes. It was a monster load of food, and worth the $6 or $7 dollars I spent on it. But as soon as I saw the claws and teeth still attached to the main attraction, I knew this would be something that I'd struggled to finish.
I tried with force to cut through the stomach of Tommy's now deceased pet, wondering if I could even bring myself to eat any of it. I did. And if you've ever had stale dark meat from a chicken, I want you to imagine that texture and taste, but with a hint of funky rat and farm dirt thrown to get an idea of the flavor. Definitely not something I'd recommend. But that was the stomach area. The ass and thigh were actually edible, but only in comparison with the rest of the meal … the farm dirt was missing, but all the other flavors were present for the palette.
Still, if you're ever in Cusco and feeling like living like a local, order some alpaca or llama and stay far away from the cuy. La Chomba is a great place: cheap food, beyond generous portions and a friendly staff … but there are some dishes best left for the locals. Cuy is one of them.