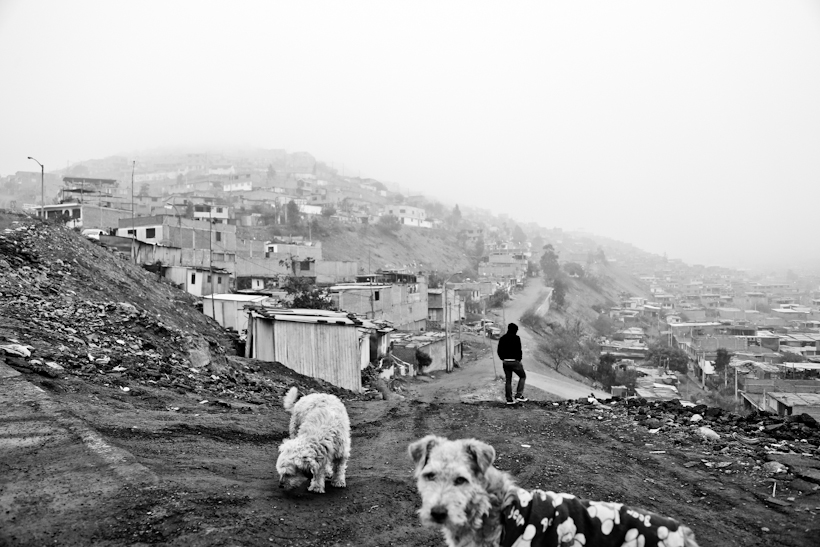 I don't know what I'm doing here exactly: that being walking through this shantytown on the outskirts of Lima like a ghost in self-induced purgatory. I guess you could say I'm searching for a better understanding of life, a more comprehensive vision of what all this shit really means, but as I met family after family living in conditions I will hopefully never experience, I walked away more confused than before my arrival.
Maybe it's survivor's guilt … I don't know. But it seems unfair that a little boy rejoice at the unriveting sight of a banana, while I order uni layered with slices off jerked-off Wagyu on shiso leaves. Still, it's not like I'm going to return home, move out of my overpriced Downtown luxury loft and take up residence next to the folks of Skid Row. I DO, on occasion at least, work to have this life, but that doesn't make what I saw while touring Villa El Salvador any less fucked up.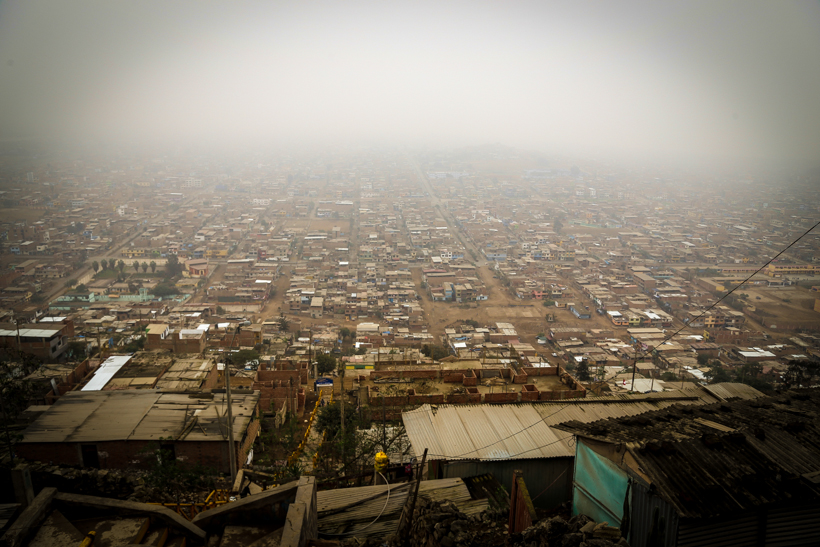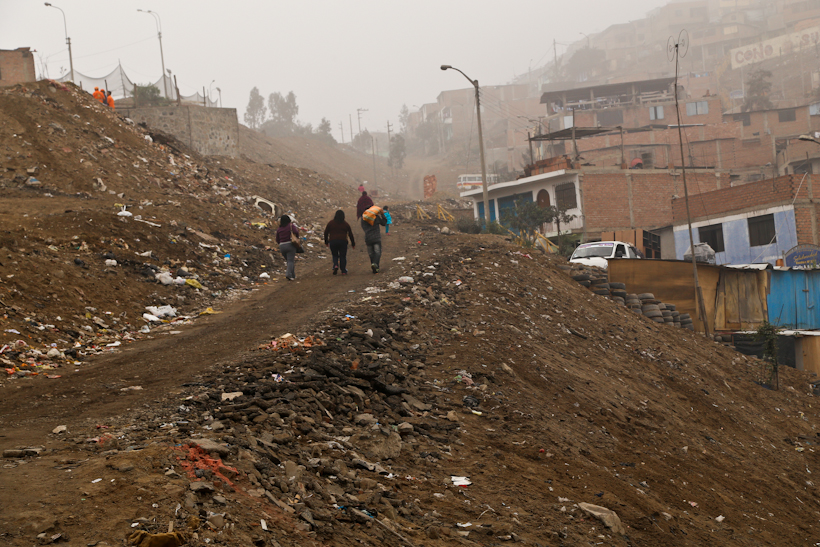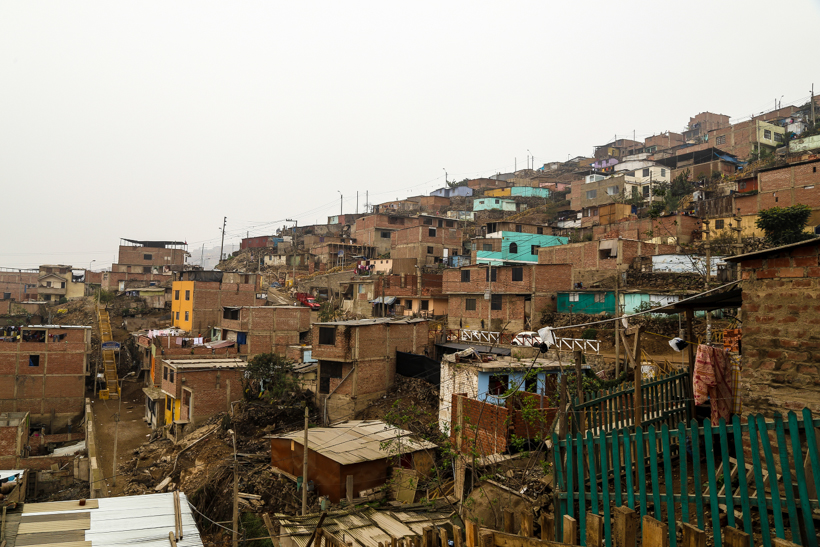 The shantytown is the second largest in South America, and one of the most dangerous places to visit in Peru – at least that's what the guidebooks and local papers say. Honestly, I never felt endangered during my four hours in El Salvador. That's probably because Edwin – a local who grow up in the midst of this apocalyptic, made for Tony Scott locale – opted to show me around. Educated in Germany, Edwin returned back to Lima to launch a different type of tour company for visitors to Lima, one that provides an intimate look at life outside of the tourists friendly, and dare I say pretentious districts of Miraflores and Barranco.
I'm not sure how popular the tours are, but uncle Al and auntie Elizabeth weren't riding in the backseats with us. It was, at least for those few hours I spent walking around, Edwin, Eric and the people of El Salvador. It's hard to fathom that two million people live here, calling scrap wood enclaves with makeshift doors "home" … but it's reality.
Some families are wealthier than others; you can differentiate because the well-to-dos having proper doors and windows attached to their shacks. Some even have homes made from bricks or concrete thanks to the family member back in the United States cutting our grass, or waiter in Italy serving folks their cappuccinos. Still, there are no paved roads, no coffee shops, no proper grocery stores and no police. The district is self-governed, with each of its 20 sectors having their own group of leaders … some good and some … well , City of God suddenly comes to mind.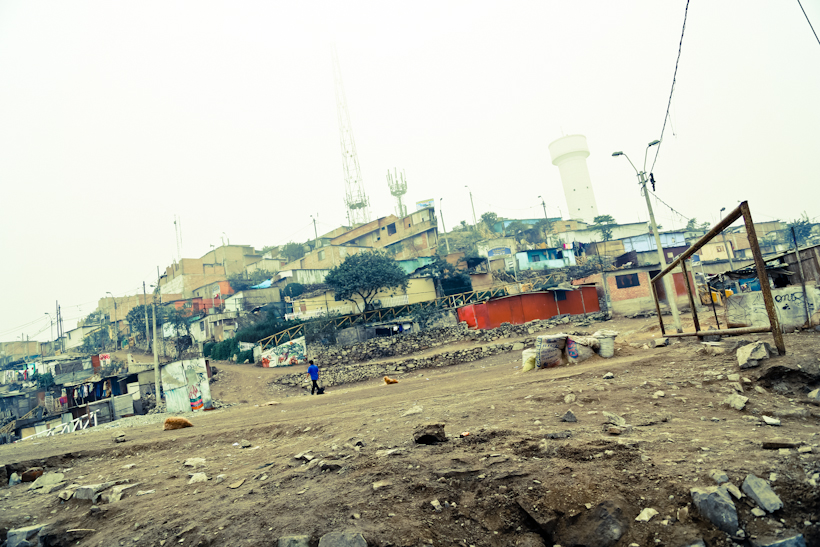 We stopped by a daycare where local women pay .90 cents a day to leave their children, enabling them to work. There were also some damn talented craftsmen, creating works that fetch up to eight or nine times their value back in Lima or in other countries. The workers don't have computers, or high tech equipment, just incredible knowledge of their craft: true artisans. All of these people struggle from day to day, but are proud to have the "I'll help you today, and you help me tomorrow" attitude that got them nominated for a Nobel Peace Prize back in 1995. It's really a sight to behold, watching a community come together to help each other with gardening, cooking and construction.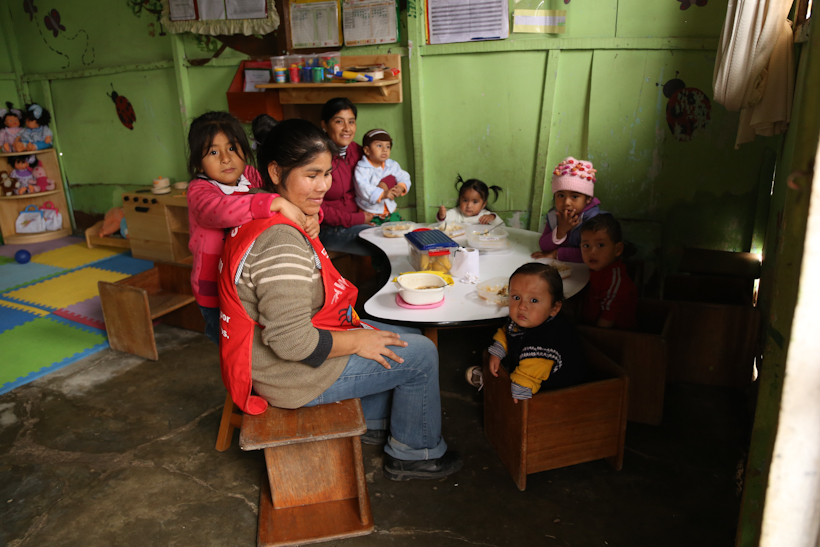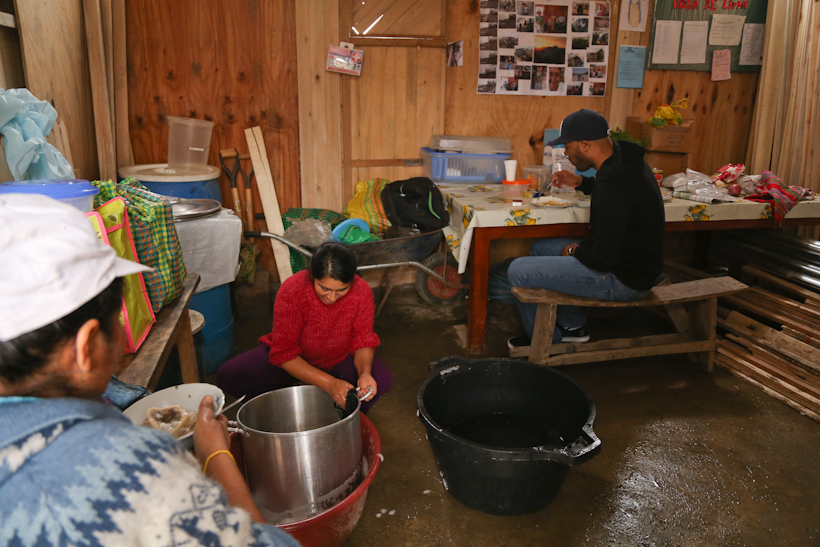 Another great thing about Edwin's tour is that a portion of the money made goes directly back into the community, and you can see firsthand how the people benefit. Before visiting a couple of families, Edwin stopped off at a market to buy food. Later, he delivered the goods to some of the women who have been left on their own to raise a house full of children. Some of women's husbands abandoned them, others killed. Edwin also puts the money back into the community by helping fund a soup kitchen for the locals.
I want to help, I need to help … but figuring out how from Los Angeles is … well … not an exact science. Maybe this blog will be a start. If you're in Lima, and think this is something that would interest you, then go and visit. Maybe you're not looking for some great epiphany like I was, or maybe you are, regardless, it's worth it to see another side of Lima … another side of humanity … another side of what makes us as a species so special: the ability to help each other out when we want to.