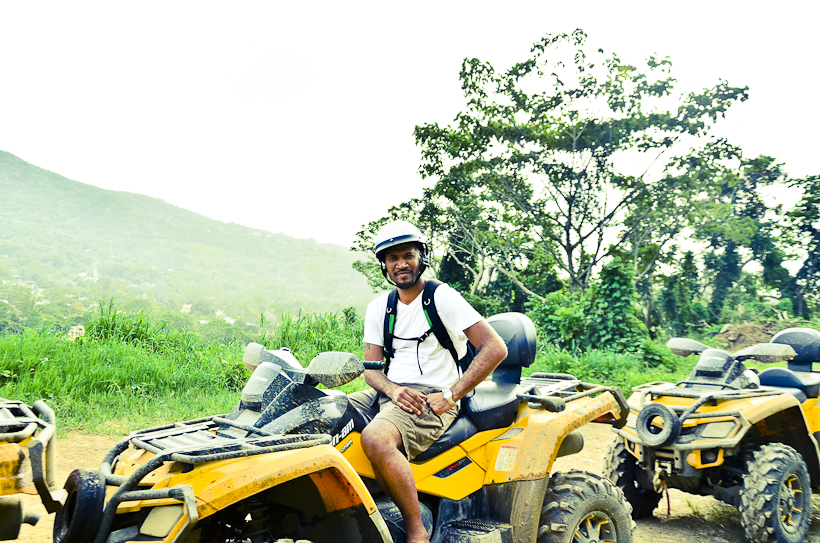 So I wake up one morning in San Juan determined to go kayaking at one of island's three bioluminescent bays. Simple enough … except none of the places you'd actually go kayaking are located near San Juan. This means you have to commute an hour from San Juan to Fajardo as it's the nearest place with a bio bay. Something else to keep in mind is that you can only enjoy the natural attraction at night.
Oh yeah! Just what the hell is a bioluminescent bay you're probably wondering. Well, it's a body of water filled with millions of plankton that glow bright blue when disturbed … in this case, by kayakers swaying their paddles.
Anyway, an old friend and I made the drive from San Juan one afternoon with plans to kill a couple hours en route at Hacienda Carabalí. The 600 acre facility is located in the foothills of the El Yunque National Forest and is on the way to Fajardo making it a great destination to drop by if you're trying to break up your day. For outdoor enthusiasts, there's horseback riding, ATVs, mountain bikes and go carts.
We originally planned on saddling up a couple horses and trotting around the rain forest for a few hours, but boy were we sadly mistaken. When we arrived, we were told there were no more horseback riding spots available for the rest of the day. It's something you just don't expect to hear at 2:00 p.m., which is why YOU should call these sort of places before just showing up. But I guess that would require some planning, and nothing about any trip I've ever been on has been planned.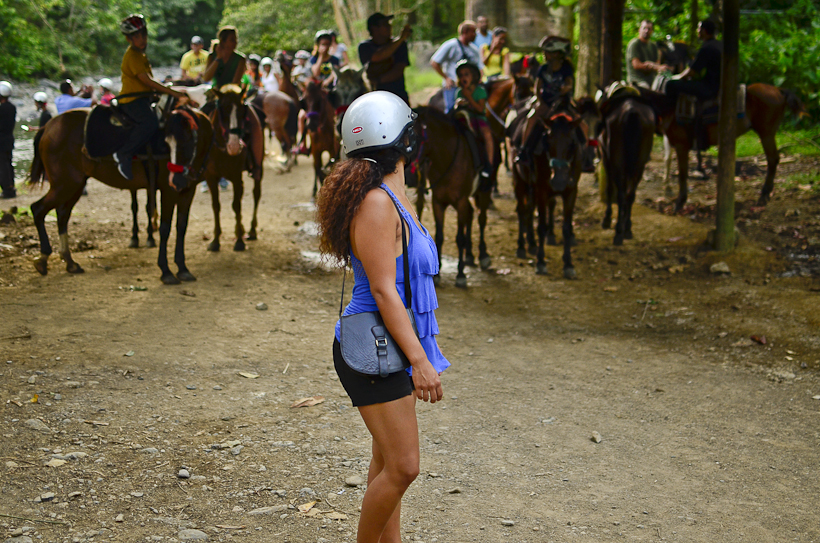 So here we are stuck with 5 hours to kill before continuing our drive to Fajardo. We weren't going to drive back to El Yunque where we'd been hiking the previous day, and neither of us felt like sitting in the car and staring at trees until nightfall. Thankfully, Hacienda Carabalí has a restaruant on location, and that restaurant serves booze. After downing three piña coladas over conversations I can't even begin to recall, we decide to check out the ATV tour.
Low and behold, there was a group getting ready to go out, and for $45 each, there were two more spots available. "Why the fuck not?" we said in a drunken stupor. Riding ATVs after downing a couple drinks, while not something I recommend, could be a fucking blast … so we excitedly signed up.
Our helmets smelled like sweaty gym shoes, we had to sit through a boring instructional bit and never really got a chance to push our engines to the limit, but I got to lead the group which was awesome … and thanks to an afternoon shower, got real nice and muddy too. The hour and a half ride took us through the foothills of the rainforest, exposing us to some rather dense vegetation while traversing over rugged terrain, crossing through rivers and climbing up steep, rocky hills.
Would I say go out of your way to check out this place? Christ, no! But if you're looking for something to do en route to kayaking the bioluminscent bay in Fajardo, this is might be worth a stop. And for $45, it's an OK experience made infinitely better by booze … although I do not condone drinking while operating an ATV.