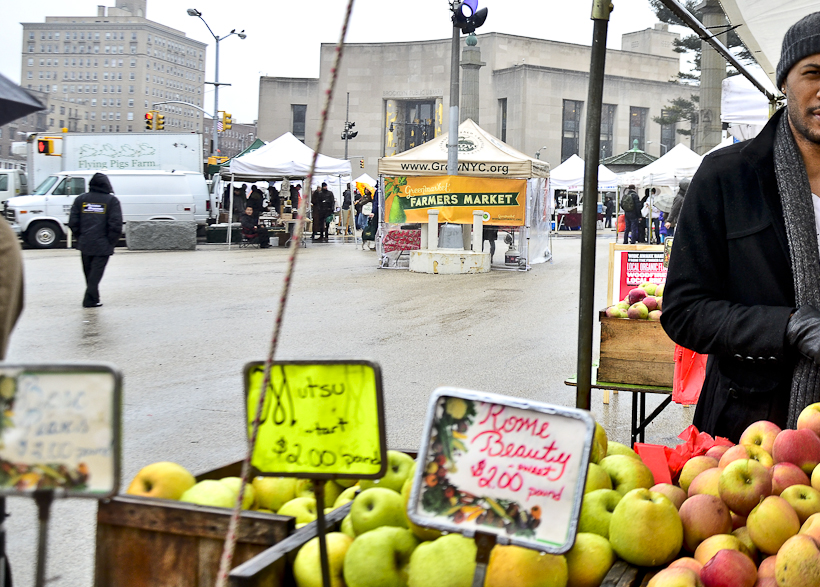 If you're ever in Brooklyn on a Saturday morning and want to spend a couple of hours "Living Like a Local", one place you might want to head is the Grand Army Plaza Greenmarket. Founded in 1989, the neighborhood farmer's market is located at the northwest entrance to Prospect Park—, directly across from Brooklyn Public Library. Rain or shine, farmers, butchers, bakers and other culinary artisans are out bright and early on Saturdays selling their goods from 8:00 a.m. to 4:00 p.m.
So instead of heading into a Starbucks or shit diner to grab breakfast, take a $10 bill to this place and buy a cup of cider from Bad Seed Cider, a muffin or some other form of pastry from Baker's Bounty and some fresh fruit from the people at Williams Fruit Farm. And while you're at it, sample some bird from Hudson Valley Duck Farm and cheeses from Lynnhaven Farm. And you can thank me later for that Hudson Valley Duck recommendation because that's some good stuff.
You know, honestly there's nothing I enjoy more on a Saturday morning than stopping by this place. It's cheap, organic and fresh … not to mention, you're putting your dollars directly in the pockets of local farmers, cutting out the middleman in the process and bypassing the f*cked up world of corporate agriculture and farming.
And once you're finished having a snack, you can stop by the Brooklyn Library, nearby Botanic Garden or Brooklyn Museum, all of which are in walking distance. And just so you know, the Botantic Garden is free on Saturdays before noon so there's a cheap way to spend a portion of your weekend. You could even buy some snacks from Grand Army Plaza Greenmarket, take them with you into the Botanic Garden, and find a nice bench to sit on and eat. Yeah, it's kind of Forrest Gump, but who the fuck cares? Forrest Gump got laid.