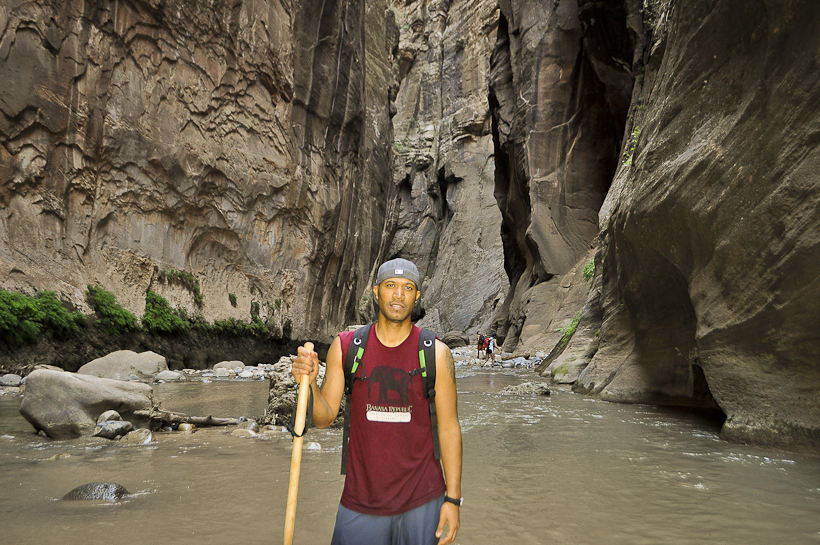 "Really? I remind you of some crazy white guy that went canyoneering by himself in Utah?"
I kept finding myself repeating those words after Danny Boyle released his critically acclaimed film, 127 Hours, a few years back. It seemed, at least to several of my close friends, that I reminded them of Aron Ralston … the Utonian that hacked off his arm after it became trapped by a boulder in an isolated slot canyon inside Canyonlands National Park … yep, definitely the kind of comparison you're used to hearing as a black guy from South Central LA.
And yet I'd been canyoneering before, just … never alone. Still, this wasn't why I reminded my friends of Aron. In the film, Aron wakes up one morning, hops in his SUV and drives from Salt Lake City to the National Park without telling anyone. Going on solo expeditions is something I've done frequently; and it would not be unusual for me to wake up on a Saturday morning, turn on some Red Hot Chili Peppers, Free Blood or John Mayer and drive somewhere remote for the day alone. It's definitely not the smartest thing in the world to do, but I just never felt the need to share my itinerary with the world. I'm a big boy … I can take care of myself, I thought.
Then I saw 127 Hours, and the idea of having to amputate a limb off my body with a rusty Chinese multi-tool just didn't seem all that appealing. From that point on, whenever I went somewhere I might get bit by a rattlesnake, fall off a cliff or die from dehydration, I made sure to tell people. Fortunately, I wasn't at risk of any of those things while solo trekking Zion National Park's most amazing hike, The Narrows.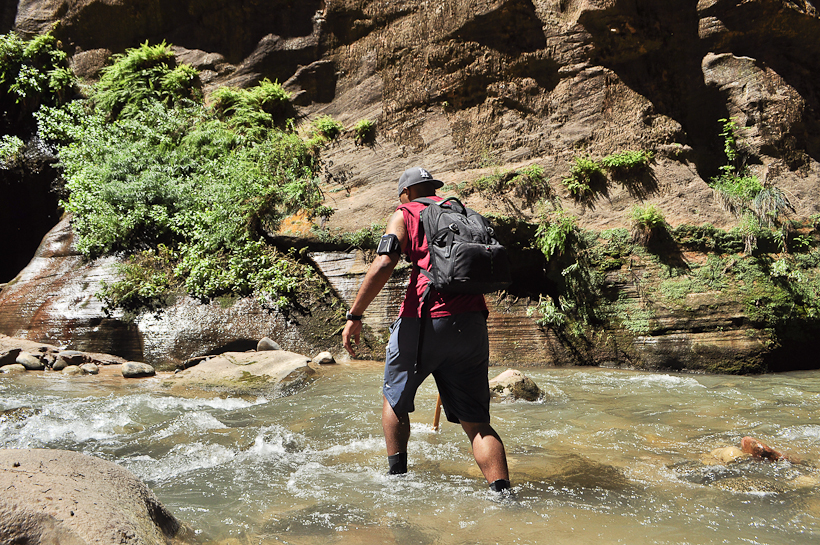 I've been on some pretty cool treks in Cuba, Nicaragua and Thailand, but this wet and slippery good time is my perennial favorite … and I didn't even need to buy her a pint, which makes it all the better. That being said, I'm definitely not the only crazy fucker with that opinion: hiking the Narrows was rated #5 in the National Geographic ranking of "America's Best 100 Adventures", which sort of proves my point, right? This, and I don't say this often, IS A MUST DO if you're ever in Southern Utah! This and the polygamy, but I digress.
The Narrows is a unique trail because it's in a river flowing with – depending on what time of the year you're there – ice cold water. At some parts, even for a guy like myself who's 6'3, the water can reach your chest. And you'll need a sturdy walking stick and boots to make sure you don't fall in face first like a blogger who may or may not be named Eric Berry.
For a third of the route, the river runs canyon wall to canyon wall. The red colored walls are vertical and sheer, like in the photographs above, which means that you don't get a lot of direct sunlight while prancing around in the water. Regardless, it's really a natural wonder and breathtaking experience, just a cold one … and if you're a midget: a dangerous one. Along with the shaded walls of red, auburn, and gold, there are fertile shrubs and the occasional tree that add a nice contrast under Utah's pristine blue skies.
While there are several ways to explore The Narrows, the easiest, and I use that word loosely, is taking a shuttle to the Temple of Sinawava stop and hiking in a mile to the start of the trail. From there, it's about 3.6 miles to the turn around point unless you have a permit to continue further. It took me a full day to knock out the roughly 8 mile trek through the water, and that includes stopping to take pictures of myself since this was a solo adventure. I also packed a little lunch which I highly recommend since you're going to be in the water all day. I found a nice little area out of the shade and plopped down to enjoy whatever Walmart junk food I had thrown in my pack that morning. Just remember: the sun is your friend in The Narrows.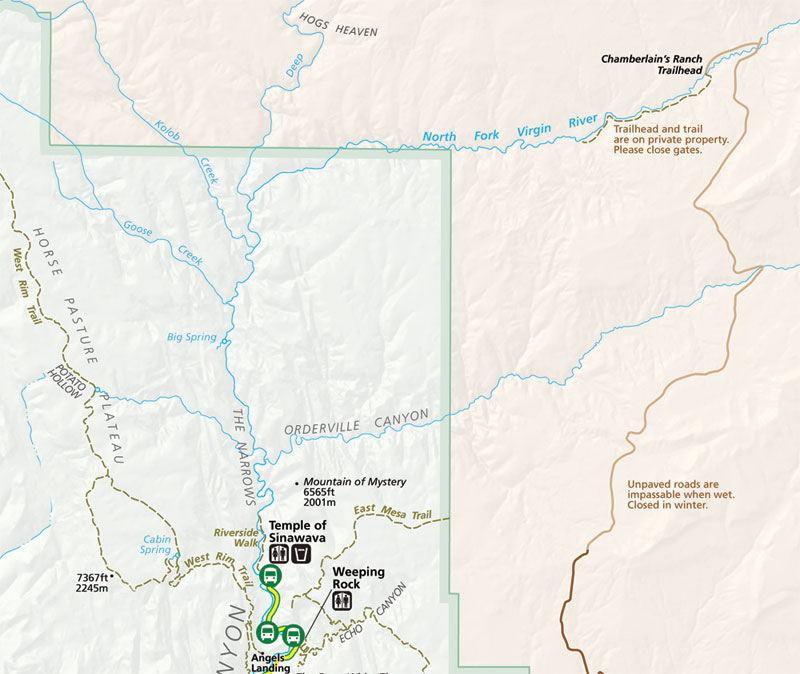 I love the outdoors, I love getting messy while I'm hiking and I love feeling like I accomplished something when I finish a trek. I think the latter has something to do with me feeling like I earned whatever burrito I'll be stuffing in my mouth once I finish. Regardless, you're not going to find very many cooler hikes in the United States than this one.
COST:
Entrance into Zion National Park in a private vehicle is $25. This includes a seven-day pass which grants you in and out privileges for a week. To cut back on traffic, all visitors are asked to park at the vistor center and hop on a shuttle which circles around the park while providing a recorded audio tour. The shuttle stops at all the major trailheads.