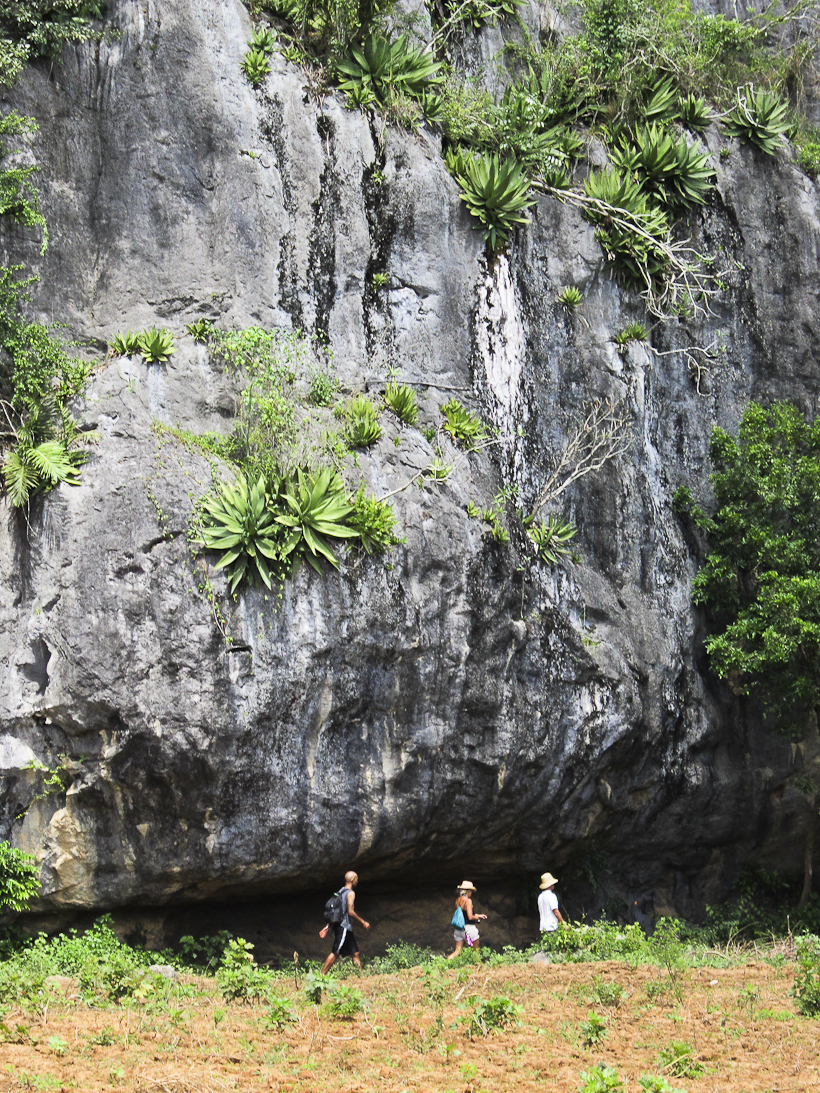 After you've hiked six miles while smoking a cigar and drinking rum from a flask, you tend to forget things … like the name of this cave I'm photographed entering. Still, I guess what's important is what I do remember: like the cave being located in the small farming town of Viñales and being an absolute must if you're ever in the area.
Located in northern Cuba, Viñales is popular with tourists because of its horseback riding, hiking, and cave exploration; the latter being the main reason I boarded a bus from Havana to spend a few nights there. The majority of my weeks traveling around the island were spent in the company of two men: Derek and Michael. I met the chaps on a flight from Cancun to Havana, and without much explanation, became the third amigo in their Latin American comedy / action-adventure.
One night, while finishing my fourth Cuba Libre, the guys mentioned meeting a guide taking a group on a tour of the area the following day. Another person orchestrating this excursion was Charleen "Firefly" Elliot, who you may or may not remember from our most recent run-in London. The guide was charging about $5 to $7 for a full day trek that included some cave exploration, a chance to visit farmers and time in the tobacco fields. I was on a strict budget, so the price sounded ripe to my ears.
The following morning the guys and I met up with our guide, Charleen and a group of Italian girls to begin our day long trek. Because I was coming out of a breakup, and desperately trying to redefine my masculinity, I found myself doing things most sane people wouldn't during the hike: things like drinking rum and smoking cigars. I mean, I'm a kid from Los Angeles, not Charles Bronson on roids, but I digress.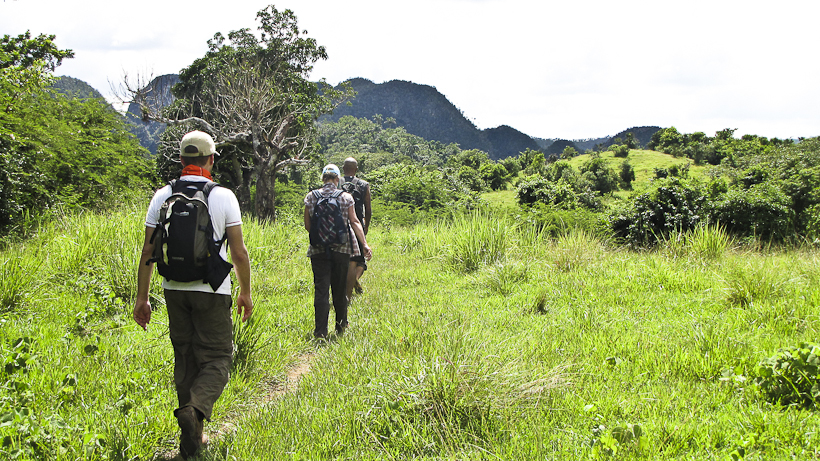 By the end of our long and exhausting trek, we arrived at the entrance to a cave. Unlike some of the caves in the United States, there weren't lights inside, and no one in our group packed a flashlight. Thankfully, the Cubans anticipate everything when it comes to tourists because located convenientlally at the entrance of the labyrinth was a man holding a torch. For a $1 each, he would act as our honorary park ranger and escort us through the cave to a natural pool where we could take a dip. Seriously, what the hell were we going to do? Say, "No." I think not. We paid the man and took our asses inside.
The problem with some caves, especially ones with water running through them, is that they're really slippery; meaning, it's easy to bust your ass if you're not careful. This means we all had to be particularly cautious while moving around because even the best pair of Vibrams won't save you from a tumble. Someone in our group, who may or may have not been paying attention to where they were walking, took a spill on the trek in … and that person may or may not be named Eric Berry.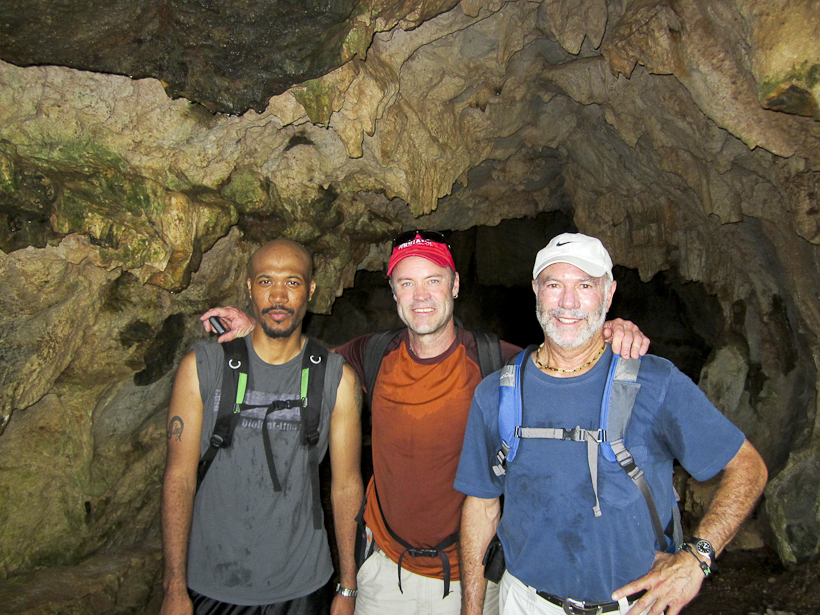 After walking for about 10 minutes, we arrived at the swimming spot. Our guide set the torch down and invited us to jump in. "If the black guy is going to die first, he needs to die doing something cool like a cannonball!" I thought before launching myself into the water.
Lucky for me, I survived … and within seconds … the entire group had followed behind. For the next 20 minutes or so, we celebrated the experience with childlike elation. We splashed water on ourselves, on each other; posed for pictures and covered each other in mud. The mud was, for me, the highlight. It felt great against my skin, and as the guide explained, was amazing for skin rejuvenation.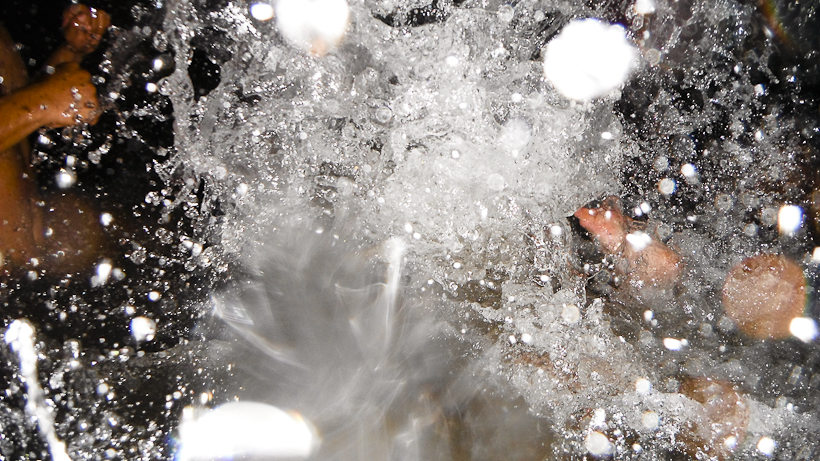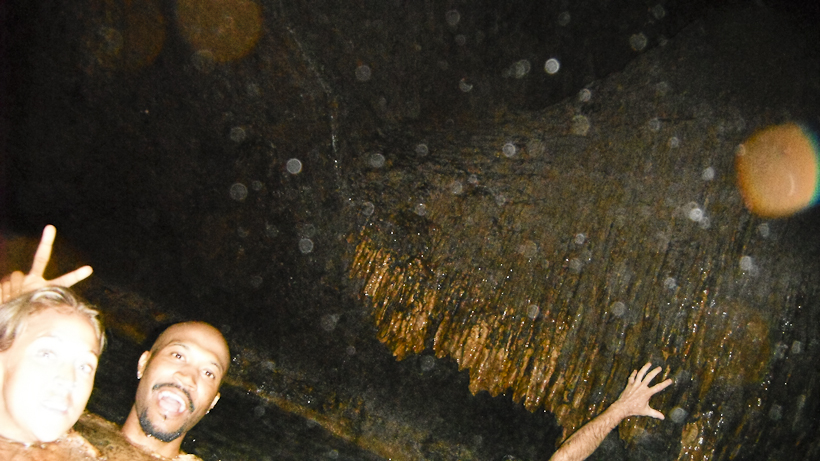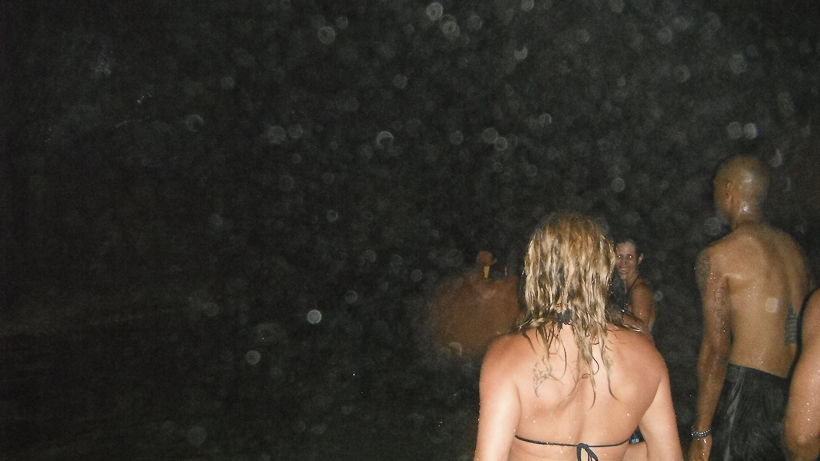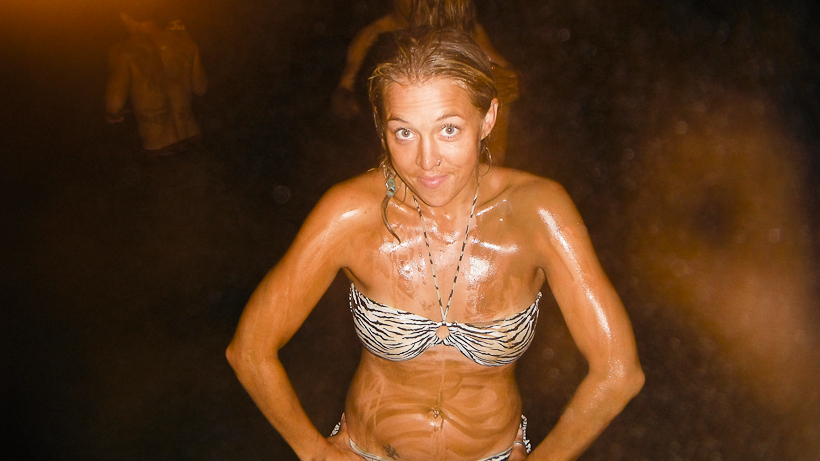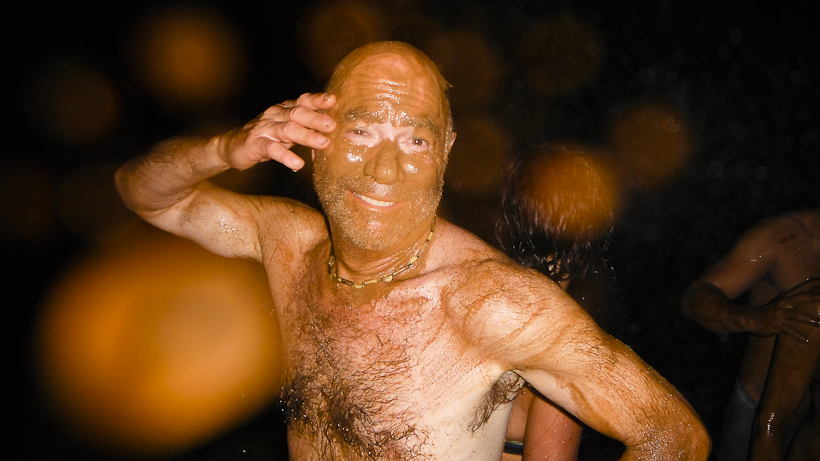 Look, I don't know the name of this cave … but if you're in Viñales just tell someone you want to go to the cave with the mud. They will know what you're talking about it, believe me. And I mean, what's better after a six mile trek than swimming around inside a dark cave with a bunch of hippies. For $5, $7 at the most, it's totally worth it.