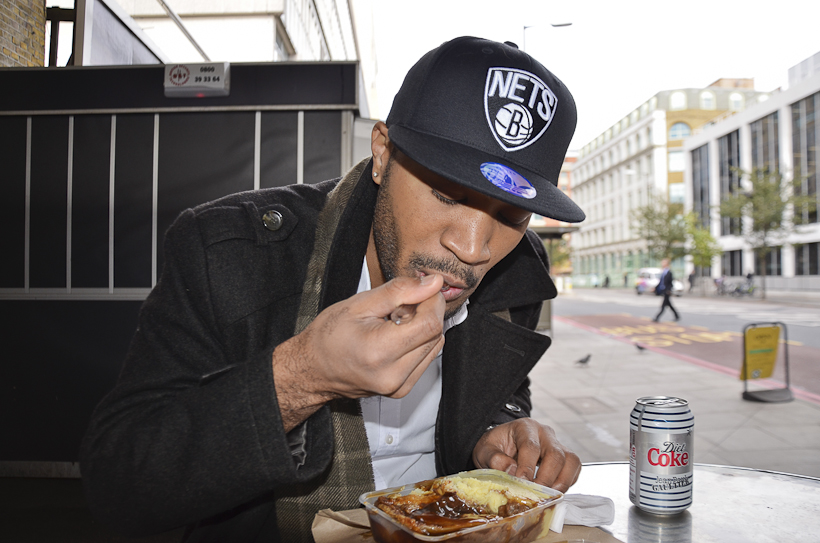 No trip to London is complete without downing a meat pie of some variation. There's a couple reasons for this: 65 percent of the time London is cloudy and cold and nothing tastes better in shit weather than a savory calorie overload; another reason is that it's a local dish, meaning that if you want to live like a local, and the tea and crumpets just aren't cutting it, this is a solid alternative.
I found an amazing food stall a few blocks from the Tate Modern serving up some delicious cheap eats; a favorite thing for a budget traveler like myself. The Balance food stand sits right underneath an overpass located near the Southwark Tube Station. The approximate address if you were to use a map would be 197 Blackfriars Road, London, England, United Kingdom … or at least going to that address will lead you in the general area of the dining spot.
Once there, I ordered myself a steak and ale meat pie with a diet coke (I can't eat any meal without washing it down with a diet coke). The pie was stuffed into a container and topped off with a side of "mashed", which is just a local shorthand way of saying mashed potatoes. For ₤2.50, I wasn't expecting anything other than a snack to hold me over until later in the day, but boy was I surprised when the woman working behind the counter handed me my lunch.
First of all, it was a huge portion …. and full of starch I might add. There was the "mash" I previously mentioned, but also a thick and rich crust holding in the juicy and delicious steak and ale contents. And once I bit into the pie, I understood why this was a local favorite: the cuts of steak were tender and flavorful … and they certainly didn't skimp on the meat. This wasn't my mother's Banquet pot pies she'd bake when I was a kid; this was damn near gourmet food and at an affordable price.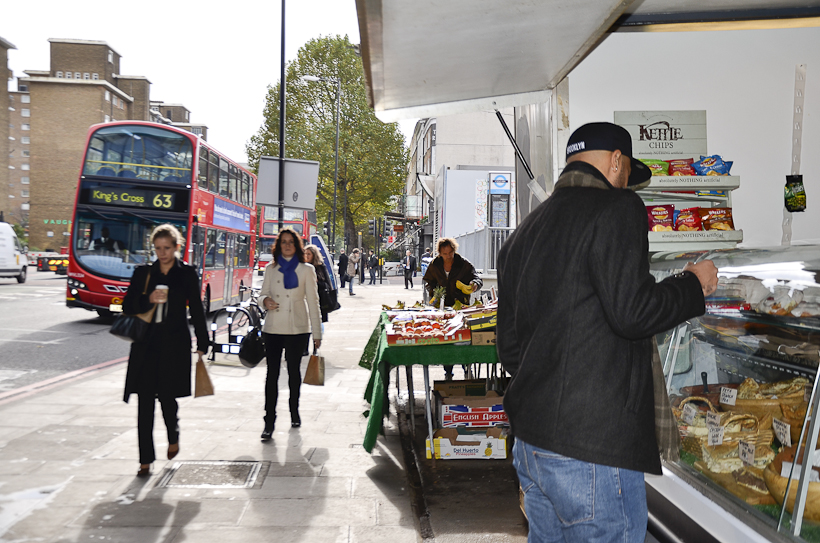 A large portion of the costumer base at the stall is compromised of employees in nearby office buildings meaning this is a local hangout. There were folks dressed in suits, some dressed in casual clothes … seemingly coming from all walks of life, but in that moment being on one accord about their current task: ordering a meat pie.
The stall also sold more than just meat pies; they served sandwiches, quiches and soups … and right next to their shop was a fruit and vegetable vendor for the local looking to get a bit healthy during their lunch break.
Is Balance the only food stall serving meat pies in London? Not even close. But it might be worth it to head over to it if you're checking out the Tate Modern or just so happen to be in the area. It's a good way to see how the locals function Monday through Friday on a typical work day. And I'll be honest, the food was pretty damn good ₤2.50. You'll be hard pressed to find something else in London competitively priced. And keep in mind that when traveling, if you see a crowd walking in one direction around lunchtime, follow them.