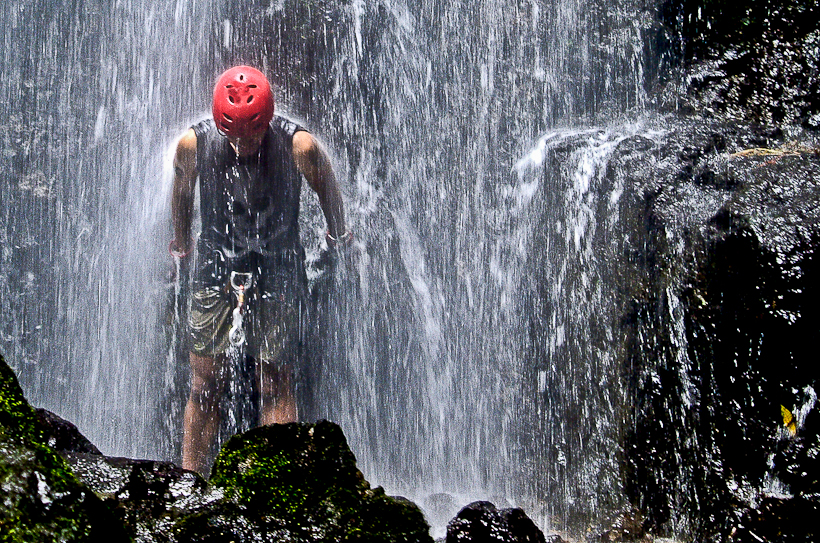 You don't repel down the side of a 150-ft waterfall without having an adrenaline rush of epic proportions. I've been volcano boarding in Nicaragua and scuba diving in Belize, but none of those adventures standout more than canyoneering in Costa Rica's mountain town of La Fortuna.
Some of you might be wondering what what the hell canyoneering is, so let me explain: the sport, at least in this part of the world, includes hiking, rappelling, down-climbing, river tracing, bouldering, diving and swimming through a dense and tropical rainforest with streams and waterfalls pumping some ice-f*cking-cold agua.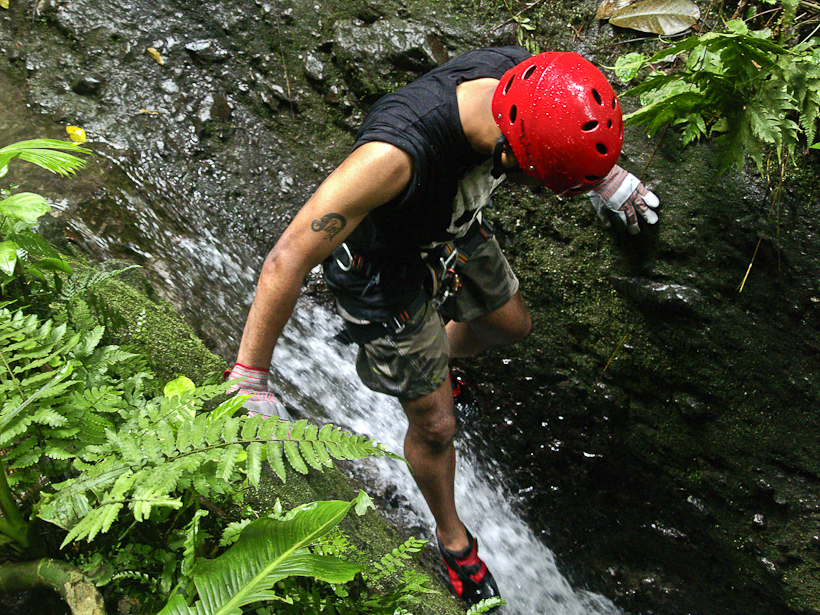 My first canyoneering experience came with the help of Lost Canyon Adventures in La Fortuna, Costa Rica; the same town that sits at the base of the famed Arenal Volcano. The entire trek took about 5 hours to complete and included two very intimidating rappels. Thankfully, before going 150-ft down the first major descent, my guide gave me a harness, helmet, gloves and a practice run on a 15-footer. Next came the real thing, which began with me standing over the platform pictured below.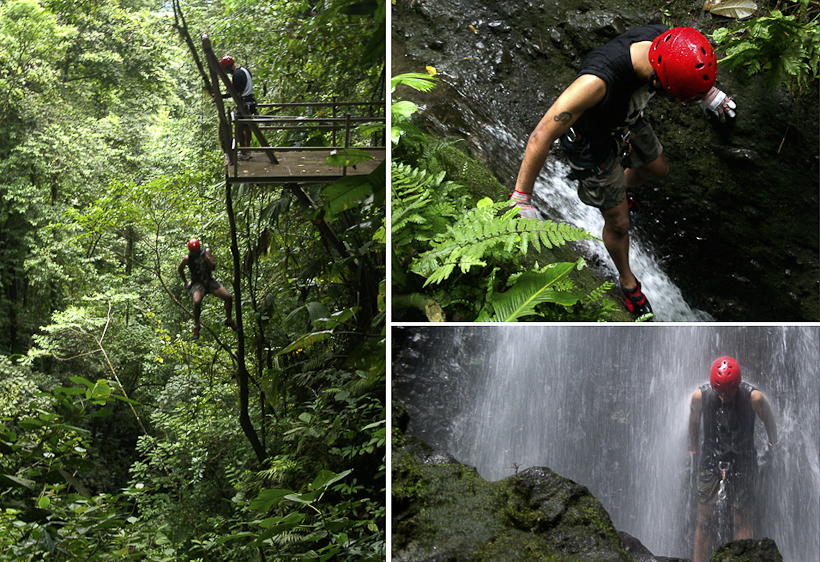 Look, I'll be honest: when my guide told me to let go of the platform handles and drop, I was scared shitless. It's not like this was a video game, and if I fucked up I could just hit restart. There wasn't a safety net at the bottom of the rappel; just large, jagged rocks. It was dangerous, and yet, absolutely exhilarating. This must be what unprotected sex with Paris Hilton feels like, I thought.
After hiking for another hour, I realized that 150-ft descent was just foreplay. My guide, being the sly-devil that he was, saved the best rappel for last: a 200-ft descent down the face of a waterfall. At this point, any apprehensions I had about safety were gone, making it possible for me to truly enjoy the 20 or so seconds it took me to get to the bottom of the final fall. In those few seconds, I felt completely at peace despite an overload on my senses. The chilled water hitting my flesh, the soundtrack of the rain forest, and the lush flora are things still embedded in my brain some six years after the experience.
If you love outdoor adventures, canyoneering is an amazing sport worth checking out. Folks living in the United States can take advantage of the activity in states like Utah and California, but if you're in Costa Rica, La Fortuna is the place for you.
Doing It
There are several companies that provide tours including, Pure Trek and Desafio Adventures. The cost is about $90, but if you're a good negotiator, you can do it for cheaper. Most of the companies will pick you up from your La Fortuna hotel in the morning and drop you off that afternoon. Your safety gear as well as lunch is typically included. You will get wet so make sure to pack a change of clothes.