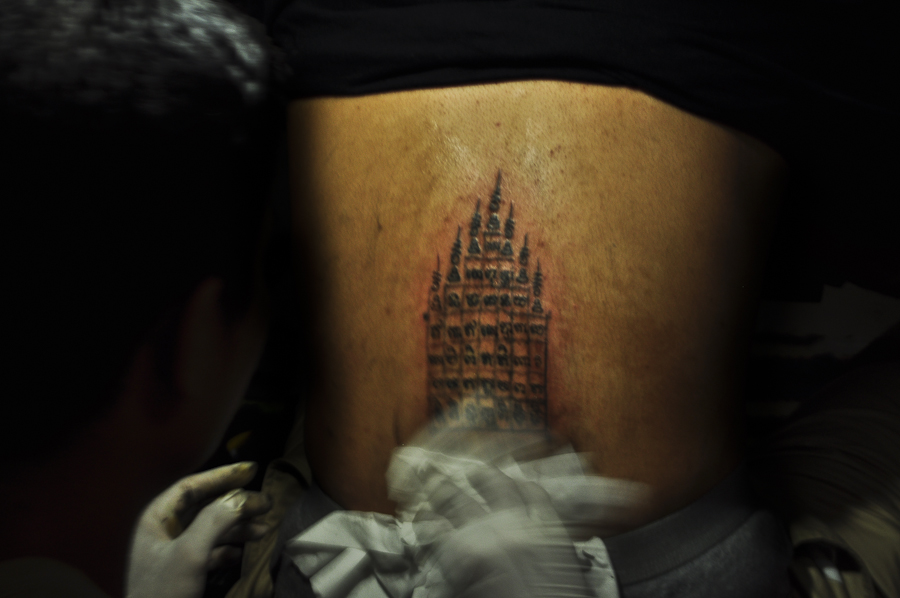 Okay … so how did I end up with this on my back? It's a long story. Let me try and explain
I've had some pretty bad ideas while traveling, but I don't think any were as bad as the one I had on July 24, 2009. For some reason, I thought it would be adventurous to travel an hour outside of Siem Reap, Cambodia into the countryside to find a Buddhist monk skilled in the art of tattooing. I wanted some new ink to help celebrate my 26th birthday and figured this would be an exciting and unique way of obtaining that want.
My Cambodian driver Bunsong knew of a place that provided exactly what I was looking for, so he drove me 30 miles on the back of his moped to the Watsovansila Pagoda. Once there, I met with the head monk who after some discussion through use of a translator, agreed to tattoo my crazy Gringo ass. The next step in the process was selecting the design.
The monk pulled out a binder filled with different tattoos all said to have unique magical properties once placed on the body. I had a few ideas in mind: think increased libido, financial prosperity and things of this nature; but the monk seemed pretty hellbent on giving me a tattoo protecting my body from guns. I agreed to his suggestion, reluctantly I add, wondering deep down inside if he thought I was a rapper or something.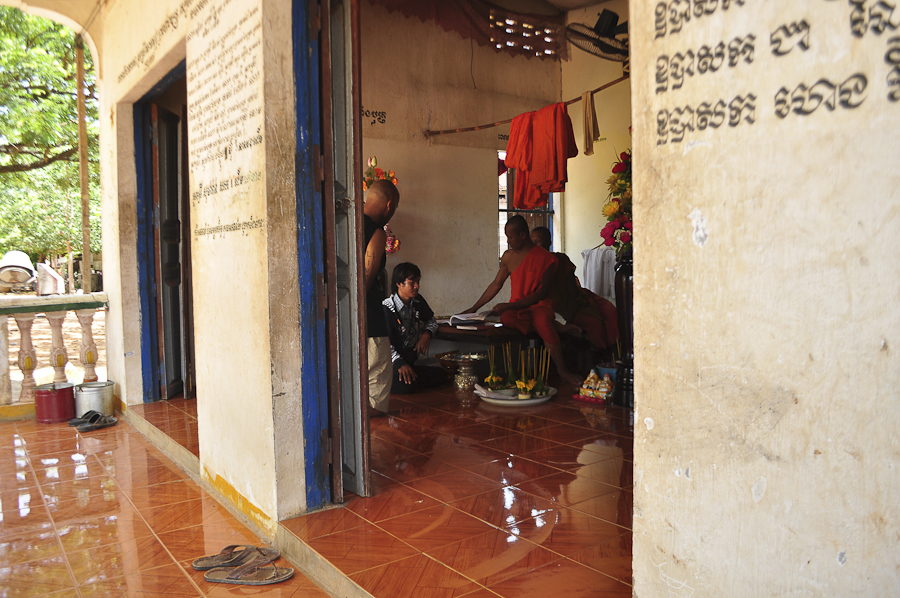 Before arriving at the pagoda, I had absolutely no idea how the monk would perform the task, and certainly no concept of the pain I was voluntarily inviting into my life. In hindsight, that was certainly a good thing because had I known before leaving my hotel, I wouldn't have gone. Still, here I was inside this Pagoda in front of a monk who seemed amused but respectful of my brave spirit.
As he began preparing his tools for the ritual, I thought to myself: "this is probably going to hurt."
After lying down stomach first on an old rug, and having my body covered in powder, several sharp pains shot across my lower back. The monk had started tattooing me, using a sewing needle attached to a long bamboo stick as his instrument of terror. After a couple of minutes of excruciating pain … knick, knick, knick, knick, knick … the bottom line of the tattoo was done. I let out a sigh, much to the amusement of the other monks gathered around to watch me.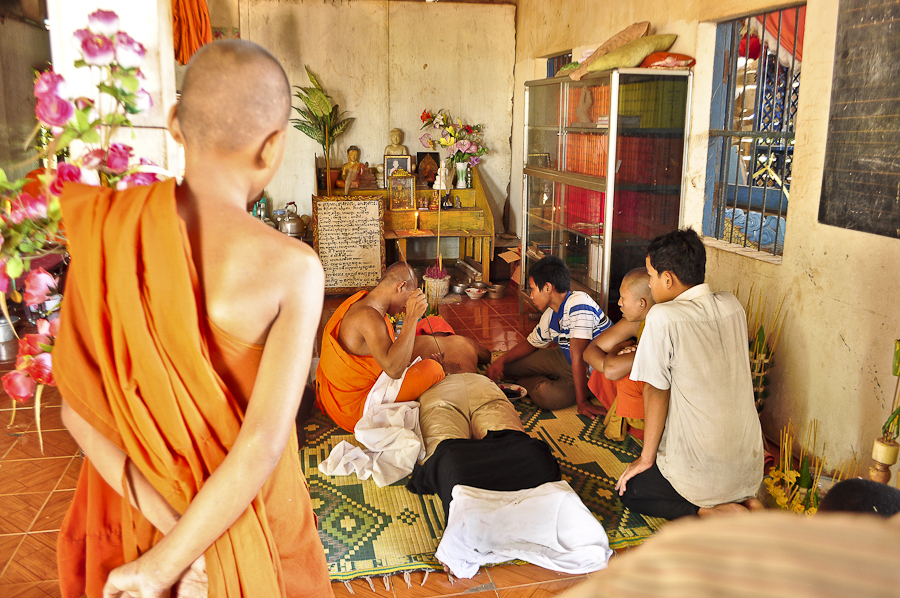 After having my spinal cord stabbed with a needle for an hour, the pain became too unbearable; I knew I couldn't finish this way. The discomfort mixed with the sweat, flies and growing audience made continuing impossible. I was, a pussy, and perfectly fine with that. The monk, a deranged optimist at this point in my mind, told me I could and should finish. He suggested I return to Siem Reap and have a tattoo artist use a machine to complete the design.
After resting in my hotel room for an hour, Bunsong took me to a tattoo parlor where a young man agreed to finish the work for $80; the only problem was my back was still sore from the pounding it had received earlier; this made the next hour easily the most dreadful of my life. Taking breaks in between sections to regain composure, the tattoo artist filled in the temple the monk had started with Cambodian writing. It hurt. A lot. But once if was finish, and my whining was done, I had come one step closer to truly having the work of art I had set out for to celebrate my 26th birthday. Still, there was one thing left to do.
The next day I returned to the Watsovansila Pagoda to participate in a blessing ritual. My new body art, still red, sore and tender, was doused in an oil that certainly didn't soothe the area. The head monk then entered into a Buddhist prayer while slapping the tattoo over and over again. I was asked to repeat the prayer with him and complied.
After about 15 minutes of chanting in harmony with the monk, the blessing of protection from guns had been, in essence, activated. If I wanted to insure that the spell worked successfully, the monk told me I could no longer eat dog (which wasn't really a problem), or use profanity during arguments (which was another story). I agreed and Bunsong explained to me that the monk who performed the art was now my teacher.
Before leaving, I made a donation to the pagoda for $50 and tipped my driver; but there's no way to put a price tag on such a priceless experience. I've been all over the world and I don't think there's a "souvenir" I'm more fond of.