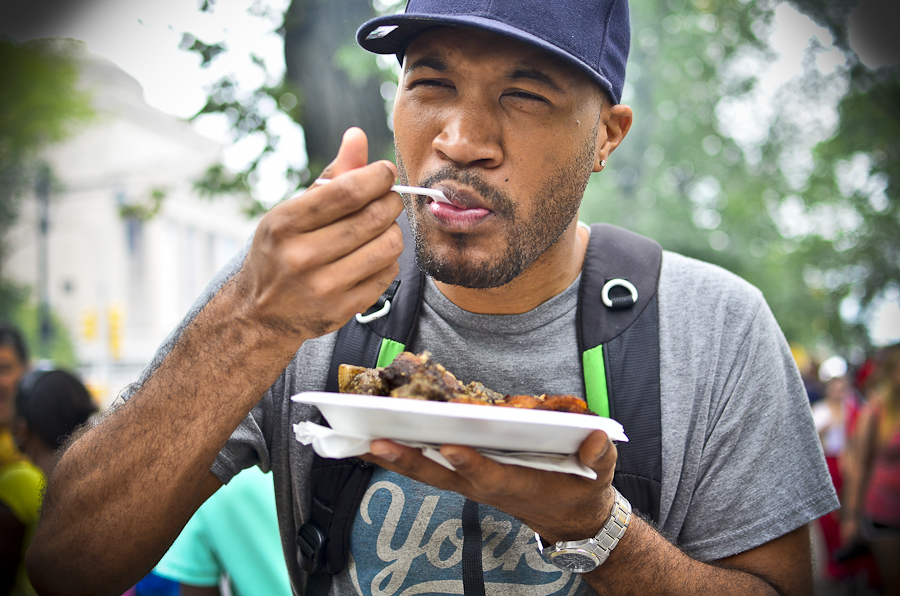 If you're visiting New York, there are plenty of Michelin star restaurants in Manhattan to break your checking account. You could easily drop a couple hundred dollars dining at Tribeca newcomer Atera, which scored a coveted two-star rating this year, or you could live like a local.
Living like a local in this case would mean hopping on the train from Manhattan and taking your ass to Brooklyn's Crown Heights or Prospect Heights areas for some Caribbean food. The Islands, Gloria's and Imhotep's Health & Living Foods are all solid options according to most New Yorkers, but my personal favorite is Janelle's at 671 Washington Avenue.
On Sunday, I stopped by Janelle's for brunch with my friend Claire after being told about the spot by a fellow Brooklynite. I've had Caribbean food in the Caribbean and all over the United States, but when I say this is the best island cuisine I've ever hurled down my throat, it's no hyperbole.
The jerk chicken was mouth-watering, savory and just the perfect combination of spicy and sweet, but it wasn't the poultry that stole the show, or even the scrumptious cod fritters. For me, there was no better dish than the rice and peas that accompanied the jerk chicken and plantains. I could see how some might not be a fan of the dish because of how intense the coconut flavoring is, but it's absolutely worth a try and comes highly recommended by yours truly.
And if you're not a fan of meat, you can skip the delicious curried goat and order up a side of vegetable roti. I also have to confess, while not a traditional island food, the macaroni-and-cheese was to die for … and with all the grease on my plate … probably literally, to die for.
Brooklyn has one of the largest population of West Indian and Caribbean transplants in the world outside of London, and the bulk of those people call Crown Heights and Prospect Heights home. That's why it's easy to visit one of these area and have a meal prepared by someone of Haitian, Dominican, Jamaican or Trinidadian decent that taste as good as any meal you'd get in a high priced restaurant over in Manhattan. It's authentic cooking … and worth checking out if you want a local experience.
Brunch for two with drinks and an appetizer set us back $33.13 and we had more than enough to take home. The cheap (relatively speaking of course for New York) price of the food is another reason many locals make the trek over into these areas on the weekend for food. But hell, you don't have to believe me: just take Bourdain's word for it.