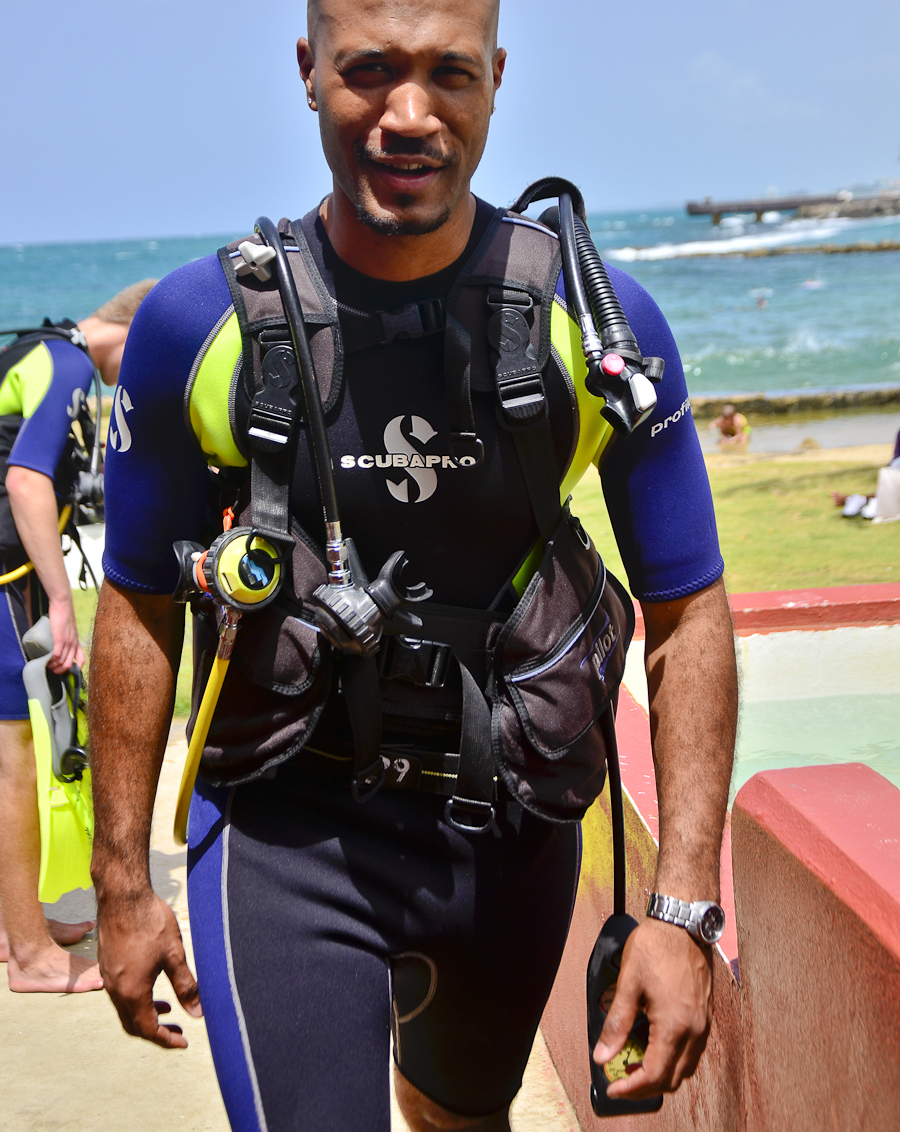 No trip to the Caribbean should be completed without a dive, even if it's just a simple one like those done at Escambrón Marine Park in San Juan, Puerto Rico.
My first open water dive had been six years before my latest, off the coast of Central America's Belize. I completed three 60-feet dives there while working to get my PADI certification, but fell one dive short of completing the class after falling ill. That was the last time I suited up for a journey into Davy Jones' locker, and in that time I clearly forgot what I had been missing.
Not having my PADI certification, and trying to dive with my girlfriend who had never dived before, really limited our options. Most of the tours going out the day we were looking to dive required a lot more experience than either of us had had. Then we came across Scuba Dogs, an outfit in San Juan providing "Discover Scuba" day trips to Escambrón Marine Park.
For about $100 each, we were given safety instructions, gear and a one-hour tour with a guide. It was the perfect way for me to ease back into something I hadn't done for a while; and even better for Camille who was a bit apprehensive about diving for the first time.
After going over things like clearing our masks underwater, and procedures for finding our regulator if fell out of our mouths while diving, Camille and I swam around the contained marine park checking out artificial reefs, shipwrecks and all the visible aquatic life.
We were only allowed to go 20 feet below the surface, but for an afternoon adventure, that seemed more than enough. When we did reach the ocean floor, our guide reached into his pocket and handed Camille and I food to feed what was becoming an increasingly large group of fish; it was an exhilarating experience, and something I hadn't encountered on my dives in Belize.
After feeding the fish, we continued on our little excursion for a few minutes trying our best not to step on any of the coral, or touch it for that matter. If you've ever had a nasty brush with the stuff, you know much it can burn, and sometimes, how easily it can cut.
As we came near the end of our journey, our guide began frantically pointing his finger left. Maybe it was a barracuda or a shark? Maybe a kayaker about to whack someone in the head? Or maybe he was doing some weird underwater dance with his hand? After a few seconds I realized it was none of those things as a beautiful sea turtle gracefully swam by.
In all my snorkeling, diving, swimming and even submarine rides … I had never seen a turtle in its natural environment. It was breathtaking to watch and a great climax to a rather exciting dive.
That being said, if you're ever in San Juan with an afternoon to kill, you might want to spend the $100 and try "Discover Scuba" with the guys at Scuba Dogs. You can have a fruity drink and shop anywhere, but there's something to be said for doing something a little more adventurous while on holiday. We did, and it's something neither of us will ever forget.