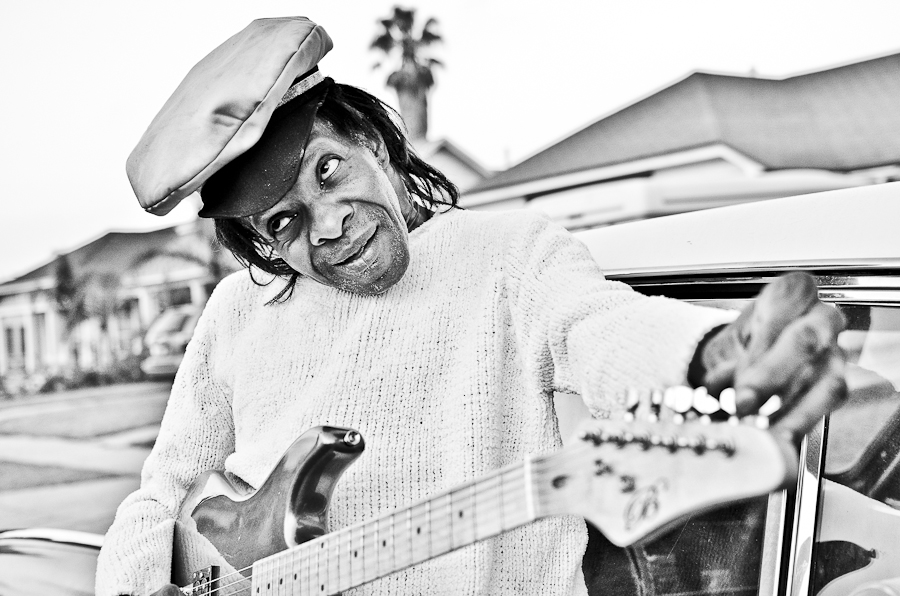 Growing up in the inner-city during the crack epidemic of the 80s and 90s makes detecting the signs of a drug addict shamefully natural to me. So when I photographed Sly Stone of legendary rock group Sly and the Family Stone last year, I was heartbroken to find the man behind hits like "Dance to the Music" and "Family Affair" living in some sort of lucid dream being fueled by narcotics.
Stone's dilated pupils were the first sign he was completely baked during our interview, followed by his incoherent conversation, unkempt physical appearance and extreme sense of paranoia. I found the rock legend living inside of a parked camper on a residential street in Los Angeles' South Central neighborhood.
I hadn't setup the interview before stopping by, and was harassed by several neighbors while waiting for Sly to exit the makeshift home. An extension cord running from a nearby house through the window of the van was the first clue Sly was actually calling the van his residence.
After a lengthy conversation with the singer's handler/nephew, not to mention palm greasing, the rock legend allowed me to interview him about his drug use. Despite being under the influence of narcotics during our chat, Sly told me hadn't used in a week. He also revealed plans to enter rehab for the eighth time, promising this time would be different. "I'm going to do it the way I want to do it," he remarked before going into a rant about his finances.
We chatted for another 10 minutes, but most of Sly's conversation was disjointed, evasive and incohesive. He believed there were people out to get him; planning, at least in his mind, to murder him and take his money. The entire chat was difficult to navigate, but I did my best.
Once we were finished, I asked him if he'd let me snap a few pictures of him. He grabbed his electric guitar from his van and give me 67 seconds to shoot what you see here. Then, it was off for I'm sure what was his next hit.
Sly did eventually check into rehab … along with his nephew … but several months after our interview; not the two weeks he had promised me. I haven't checked back in with Sly since that time, but I hope wherever he is, he's clean and making music.